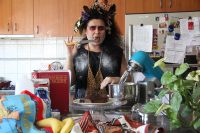 Showcasing some of Victoria's most exciting multidisciplinary Indigenous artists, Affirmation explores the concept of truth in the context of place, ancestral identity and cultural pride.
Hidden truths and practices of Indigenous knowledge sharing create a powerful hub for artists to controvert and create further dialogue on de-colonising established structures.
In dramatically shifting the status quo, Affirmation generates new thinking and reflecting about the 'smoke and mirrors' of truth-telling.
This exhibition was part of PHOTO 2021's expanded program and can now be viewed online on the venue's website.