George Georgiou (UK)
Americans Parade
18 February 2021 - 7 March 2021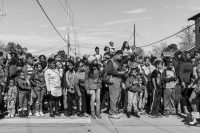 Image: George Georgiou, Algiers, New Orleans from the series Americans Parade, 2016.
When
18 February 2021 - 7 March 2021
Venues
Laurens St, North Melbourne
Outdoor work – accessible all hours
Accessibility
Wheelchair access
In 2016, the British photographer George Georgiou photographed people lining the streets of big cities and small towns across North America. The people were watching, or waiting for, parades. The resulting series was taken across fourteen states, twenty-four cities, and twenty-six parades in the year Trump was elected President.
The mass gathering of people feels like a distant memory, a reminder of life before Covid. Amidst scenes of togetherness and apparent community harmony, moments of boredom, difference and suspended tension emerge, revealing the unity and fracture of American society.
Presented by Photo Australia and the Metro Tunnel Creative Program for PHOTO 2021
On display from 18 February 2021