Aotearoa Photobook Awards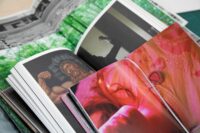 When
21 May 2022 - 22 May 2022
Regions
Venue
37-47 Thistlethwaite St, South Melbourne
Price
Free
The traces left by burnouts, the elusive life of New Zealand motels and sexism in corporate New Zealand are among the photobook themes in the 10 finalists of new Aotearoa Photobook Awards.
The Awards, sponsored by Wakefields Digital, attracted nearly 50 entries from photographic artists and small presses around the country. "These are independent artists' books that are often published in limited editions and only available on social media, artist websites or in galleries. We're delighted to receive so many entries for these first time awards," the organising Photobook/NZ committee says.
Judges were Athol McCredie, Curator of Photography at Te Papa, Claire Mabey founder of Verb Wellington, and Neil Pardington (Kāi Tahu, Kāti Māmoe, Ngāti Kahungunu and Pākehā) a noted photographic artist and book designer.
Commenting on the finalists' selection, the judges say, "The process of selecting the finalists stretched us to carefully think, 'What makes a really good photobook?' The answer, in the end, was that all components of the book had to work together to support the intention of the work. In the best books everything converged to support a clear vision and product you love so much that you want to own a copy yourself."
The three winning books, and those highly commended, will be announced by Photobook/NZ on 4 March, 2022.
Finalists:
…and then there were none
Photographer/Author: Harvey Benge, Jon Carapiet, Lloyd Jones, Haru Sameshima, & Stu Sontier
Publisher: Rim Books
A Room in Whanganui
Photographer: Solomon Mortimer & Zahra Killeen-Chance
Publisher: Self published
Between Dog and Wolf
Photographer: Jane Wilcox
Publisher: Bad News Books
Droplet
Photographer: Sheryl Campbell
Publisher: self published
Mooning the Sun
Photographer: Sage Rossie
Publisher: self published and hand-bound
Motel Life
Photographer: Peter Black
Publisher: MMM Photobooks
Mother Lode
Photographer: Ann Shelton
Publisher: Bad News Books
Screams Like Home
Photographer: Thomas Lord
Publisher: self-published
SLT
Photographer: Mark Purdom
Publisher: Ramp Press
YesterdayHome
Photographer: Lily Dowd
Publisher: Self Published
Presented in partnership with Photobook NZ
Opening Hours:
Sat 21 May, 12—5pm
Sun 22 May,12—4pm