Talk: Phuong Ngo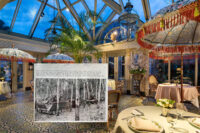 When
30 April 2022
Saturday, 12:30-1:30pm
(AEST)
Venue
1 Market St, Newport
Wed – Sat, 12pm – 6pm
Fri, 12pm – 8pm
Price
Free, bookings required
Join artist Phuong Ngo and Artistic Director Brad Spolding for a walkthrough of the exhibition, Nostalgia for a Time That Never Was.
Nostalgia for a Time That Never Was is a multi-venue exhibition by visual artist Phuong Ngo. The exhibition deals directly with the colonial legacy of French occupied Vietnam, reflecting on the ways in which this history has spanned the globe following The Fall of Saigon.
In unpacking the complexities of colonisation, the exhibition seeks to understand how the formation of French Indochina continues to inform the Vietnamese diaspora, including the ways in which the Vietnamese-Australian community engages with Australia's (and the West's) imperial, colonial, and racist past and present.
Nostalgia for a Time That Never Was is presented in partnership with The Substation, Hobsons Bay City Council's Laneway Gallery and PHOTO 2022.
Artist
Phuong Ngo (AU)

Born 1983, Adelaide, Australia
Lives and works Melbourne, Australia

Phuong Ngo is an artist and curator living and working in Naarm (Melbourne). His practice is concerned with the interpretation of history, memory and place, and how it impacts individual and collective identity. Through an archival process rooted in a conceptual practice, he seeks to find linkages between culture, politics and oral histories and historic events.