Human Rights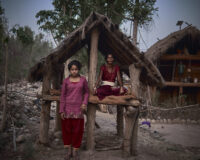 When
12 May 2022
Thursday, 4:30-5:30pm
(AEST)
Venue
Fed Square
Flinders St, Melbourne
Mon – Fri, 12pm – 5pm
Sat – Sun, 10am – 5pm
Accessibility
Wheelchair access, Accessible Toilets, Auslan interpretor, Closed Captions
Price
Free, bookings required
Human rights are fundamental, however many marginalised communities still lack basic rights. In this panel we will explore how artists are using photography to bring injustices to light, encourage positive change and as a tool for advocacy and activism.
With exhibiting artists Poulomi Basu, and Phuong Ngo, and guest Dr Shahidul Alam, photographer, writer, activist and adjunct professor with RMIT. Chaired by Melissa Miles, Associate Dean, Research, Monash University.
Gandel Digital Future Lab ACMI, Fed Square.
Free, bookings required

Auslan interpretation available at the time of booking. Please book 48 hours in advance
Speakers
Shahidul Alam (BD)

Time Magazine Person of the Year 2018 and National Geographic Explorer at Large, photographer, writer and curator Shahidul Alam obtained a PhD in chemistry before switching to photography. He received Shilpakala Padak, the highest national award given to Bangladeshi artists. Exhibited in prestigious galleries worldwide, Alam has chaired the international jury of World Press Photo. His book "The Tide Will Turn" was listed in "Best Art Books of 2020" by New York Times. Alam founded the Drik Photo Agency, the Pathshala Media Institute, Majority World Agency and the Chobi Mela festival of photography and introduced email to Bangladesh. He was arrested and tortured in 2018 for criticising his government and spent 107 days in jail but was released on bail following a massive global campaign.

Poulomi Basu (IN)

Born 1983, Calcutta, India
Lives and works London and Essex, UK

Poulomi Basu is an Indian transmedia artist, photographer and activist who has become widely known for her influential photographic projects Blood Speaks, Centralia, and To Conquer Her Land. Her first photobook Centralia was published by Dewi Lewis in 2020. The book and exhibition won the 2020 Rencontres d'Arles Discovery Award Jury Prize, and was shortlisted for the prestigious 2021 Deutsche Börse Photography Foundation Prize. Basu is a Sundance Fellow, National Geographic Explorer, and Magnum Foundation Social Justice Fellow. Her works are part of public collections, including Autograph, London (UK); Martin Parr Foundation (UK); Museum of Modern Art (Special Collections) (USA); Rencontres d'Arles (FR); Victoria and Albert (UK), amongst others.

Phuong Ngo (AU)

Born 1983, Adelaide, Australia
Lives and works Melbourne, Australia

Phuong Ngo is an artist and curator living and working in Naarm (Melbourne). His practice is concerned with the interpretation of history, memory and place, and how it impacts individual and collective identity. Through an archival process rooted in a conceptual practice, he seeks to find linkages between culture, politics and oral histories and historic events.

Melissa Miles (AU)

Professor Melissa Miles is a photography historian and the Associate Dean Research at Monash University's Faculty of Art, Design and Architecture. Her research explores the interdisciplinary qualities of photography, photography and politics, and the role of photographs and photography practices in cross-cultural relations. She is author of Photography, Truth and Reconciliation (2019), Pacific Exposures: Photography and the Australia-Japan Relationship (with Robin Gerster, 2018), The Language of Light and Dark: Light and Place in Australian Photography (2015), The Burning Mirror: Photography in an Ambivalent Light (2008), and co-editor of Photography and Its Publics (with Edward Welch, 2020) and The Culture of Photography in Public Space (with Anne Marsh and Daniel Palmer, 2015).