Blood Speaks: A Ritual of Exile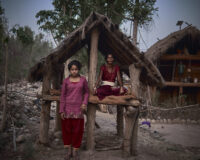 When
29 April 2022 - 22 May 2022
Venue
Rodda Ln, Melbourne
24 hrs
Theme
Accessibility
Wheelchair access
Price
Free
Blood Speaks: A Ritual of Exile is a transmedia activism project that reveals the social, emotional, and physical consequences of normalised violence against women perpetrated under the guise of tradition in Nepal and India.
This violence is grounded in the impurity of a woman's menstrual blood. Menstruating women undergo Chaupadi, a ritualised exile, which keeps menstruation shrouded in mystery and taboo—a weapon to shame women into subservience. Women are seen as "impure" during this time, and forced to stay for several days in small outdoor sheds, often a far and difficult walk away from their homes. Isolated and unprotected women are left in incredibly dangerous circumstances, crimes against them hidden, under reported, and unresolved.
Poulomi Basu is an Indian artist, photographer, and activist who has become widely known for advocating for the rights of women. These gripping photographs of the women have traveled the world educating new audiences about the harsh realities of this practice.
Curated by Photo Australia
Presented in partnership with RMIT University