Ausencias (Absences)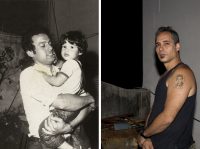 When
18 February 2021 - 7 March 2021
Venue
1 Market St, Newport
Wed – Sat, 12pm – 6pm
Fri, 12pm – 8pm
Accessibility
Wheelchair access
From the early 1960's to the late 1980's, dictatorships across South America were responsible for the murder, torture and disappearance of hundreds of thousands of civilians. Today, the families of those victims are united in the fight for 'truth, memory and justice'.
Starting with family photos, Barcelona-based photographer Gustavo Germano creates a series of before-and-after shots that are as powerful as they are personal. In every image-pairing of Ausencias (Absences) – taken in the same place, decades apart – a loved one is present, then absent. Like the systematic erasure of a dictatorship's crimes, a disappeared person leaves a void, and a call for justice.
This work is presented on the billboards outside The SUBSTATION.
Presented by Photo Australia for PHOTO 2021