30 April 2022 - 22 May 2022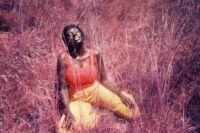 Image: Nayndng Mayen, Bigoa, 2020. Courtesy the artist.
When
30 April 2022 - 22 May 2022
Venue
7 James St, Windsor

Tue – Sat, 10am – 5pm
Accessibility
Wheelchair access
Price
Free
This exhibition brings together a group of contemporary artists working with photography, film and new media to examine the past and its effect on the futures we build and create.
Through references to history, culture and group identities, each artist comments on the world as they see it, allowing us to imagine alternative futures.
What does it mean to talk about history from an intimate and personal perspective? From confronting depictions of African American women referenced in Yétúndé Olagbaju's self-portraits to Tig Terera's intimate travel portraits, the artists in this exhibition speak to their inescapable link to history, exploring religious identity through virtual reality, familial nostalgia in film photos, and the varied ways we exist here and now as products of what came before.
Curator
Atong Atem (SS/AU)

Born 1994, Addis Ababa, Ethiopia
Lives and works Melbourne, Australia

Atong Atem is an Ethiopian born, South Sudanese artist and writer living in Narrm/ Melbourne. Atem's photographic practice explores migrant narratives, postcolonial practices in the African diaspora, and concepts of identity, home, and liminal space.  Her dynamic portraiture references widely, from Malick Sidibe and Seydou Keita to science fiction writer Octavia Butler.  She was awarded the inaugural National Gallery of Victoria and MECCA M-Power scholarship in 2018 and the Brisbane Powerhouse Melt Portrait Prize in 2017.