Warsan Mohammed (SO/AU)
Becoming
1 March 2024 - 24 March 2024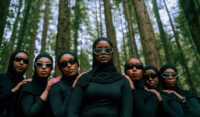 Image: Warsan Mohammed, Becoming, 2022.
A story of black Muslim selfhood.
When
1 March 2024 - 24 March 2024
Venue
118 Russell St, Melbourne
24 hrs
Accessibility
Wheelchair access
Price
Free
Becoming is the story of an unnamed protagonist as she anticipates the future and works towards truly becoming herself.
Somali/Australian artist Warsan Mohammed chronicles the community and friendship between black Muslim women as she has experienced it. She pays homage to the importance of sacred, safe spaces, allowing them to be their authentic selves, both in the present and as they aspire toward the future. Sustaining the strength of sisterhood is vital for the sustainability of future generations to be proud of their African heritage.
In Becoming, we are reminded that the acceptance of oneself is an ongoing journey.
Presented by PHOTO Australia and the City of Melbourne