Martin Smith (AU)
circle and settle
29 April 2022 - 22 May 2022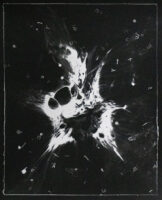 Image: Martin Smith, Absence Glacier, 2021. Courtesy the artist and Res Artis.
When
29 April 2022 - 22 May 2022
Venue
Level 1, 44 Glasshouse Rd, Collingwood
Thu – Sat, 12pm – 5pm
Price
Free
Martin Smith's practice explores how we experience our world, connect to others, and feel through language. This theme stems from the artist's own difficult experiences with speech and language, having suffered a profound stutter in his youth. This exhibition circle and settle explores the unique way that stuttering effects the construction and application of language. Through the medium of photography, speech and dialogue are represented as a physical forces like air, water and earth.