Jemima Wyman (palawa)
Dissent Atlas
1 March 2024 - 24 March 2024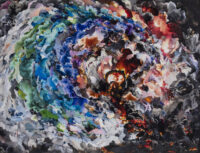 Image: Jemima Wyman, Haze 14, 2023.
Global unrest collaged into vast landscapes.
When
1 March 2024 - 24 March 2024
Venue
Federation Square, Melbourne
24 hrs
Accessibility
Wheelchair access
Price
Free
Since 2008, Jemima Wyman has collected hundreds of online images related to camouflage used in global protest.
The photo-collage works from Wyman's Haze series weave various images of smoke together to form landscapes. They become an atlas of recent global dissent. Meanwhile, her Declassified series utilises the discarded photo pieces that fall to her studio floor to depict the negative space around where smoke appears during protest—revealing defiant protesters, police with shields on masse, hands holding flares and the detritus left from conflict in the street.
The titles for these artworks are multi-page records detailing each constituent image and the associated protest, location, and date, gathering disparate historical moments into a partial yet sweeping account of global unrest.
Curated by PHOTO Australia Commissioned by Photo Australia and the City of Melbourne Supported by Fed Square In association with Agency