29 April 2022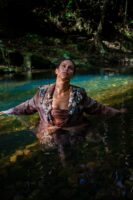 Image: Hannah Brontë, from the series Divinely Protected, 2022. Photo by Stephanie Teixeira. Commissioned by Photo Australia for PHOTO 2022 International Festival of Photography. Courtesy the artist.
When
29 April 2022
Friday, 8-9:30pm
(AEST)
Venue
12 Bourke St, Melbourne
Wed - Sat, 8pm - 3am
Accessibility
Wheelchair access
Price
Free
As a part of PHOTO 2022 Launch Weekend, artist Hannah Brontë will be playing a special DJ set in the midst of the Augmented Reality exhibition of Florian Hetz' Haut at Angel Music Bar.