Opening reception: Zoë Croggon
30 April 2022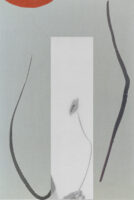 When
30 April 2022
Saturday, 3-5pm
(AEST)
Venue
Rear 90 Moor St, Fitzroy
Wed – Fri, 12pm – 5pm
Sat, 12pm – 4pm
Accessibility
Wheelchair access
Price
Free, no bookings required
In Mother Tongue, Zoë Croggon considers the human compulsion to divide and partition land. Croggon writes: "I am interested in the concept of the border, the map, the territory. My collage work is largely characterised by a "split", where two contrasting images intersect and amalgamate. In the context of this body of work I consider the "split" as a division, or border, introducing geographical, political, and historical meaning into the formal arrangement."
In Elena Ferrante's Neapolitan Novels, the character of Lila suffers from a strange malaise which she refers to as 'the dissolving of margins', where the boundaries of bodies, objects and buildings burst and collapse in a deluge of mass. In Ferrante's essays she refers to this condition as frantumaglia: 'my mother left me a word in her dialect that she used to describe how she felt when she was being racked by contradictory sensations that were tearing her apart. She said that inside her she had a frantumaglia, a jumble of fragments.' Mother Tongue examines the interior and exterior borders that shape our lives, and interrogates their meanings – what they include and also what they exclude.
Artist
Zoë Croggon (AU)

Born 1989, Melbourne, Australia
Lives and works Melbourne, Australia

Melbourne-based artist Zoë Croggon works with sculpture, video, drawing and primarily, collage. Her practice considers the relationship between the kinetic body and its surroundings, contemplating the role we play in our environment and how deeply our surroundings inform the cadence of our lives. Created primarily from found photographs, her works study texture, light, and form, examining the possibilities and limits of pictorial abstraction and metamorphosis.

Solo exhibitions of Zoë Croggon's work have been held at the National Gallery of Victoria, Gertrude Contemporary, Peckham 24 (London), Mornington Peninsula Regional Gallery, Perth Centre for Photography, Daine Singer and the Melbourne Art Fair. She has participated in group exhibitions at institutions including the National Gallery of Victoria, Heide Museum of Modern Art, Silver Eye Centre for Photography, Centre for Contemporary Photography, Monash University Museum of Art, NGV Studio, Samstag Museum of Art, Ian Potter Museum of Art and the VCA Margaret Lawrence Gallery.

Croggon has been awarded the Maddocks Art Prize (2019), Art Gallery of New South Wales Studio Scholarship at the Cité Internationale des Arts, Paris (2018), ARTAND Australia / Credit Suisse Private Banking Contemporary Art Award (2014), the Asia-Pacific Photobook Prize (2015) and the ACACIA Art Award (2010). Her work is held in collections including the National Gallery of Australia, Art Gallery of New South Wales, National Gallery of Victoria, Mornington Peninsula Regional Gallery, MUMA, Heide Museum of Modern Art, Horsham Regional Gallery, Gippsland Art Gallery and Artbank.