Faces and Phases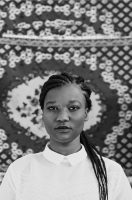 When
23 February 2021 - 7 March 2021
Venue
Argyle Square/Lygon St, Carlton
Outdoor work – accessible all hours
Accessibility
Wheelchair access
Due to lockdown restrictions delaying installation of this work, Faces and Phases will now be installed on 20 February.
Although South Africa legalised same-sex marriage in 2006, discrimination and violence against queer women remains widespread.
In 2006, South African photographer Zanele Muholi started an ambitious series of bold portraits of lesbians against plain or patterned backgrounds. Working on the Faces and Phases project for more than a decade, Muholi created a visual record of black lesbians in their home country that is as important as it is powerful.
Presented by Photo Australia in partnership with the Biennale of Sydney
Supported by the City of Melbourne and Naomi Milgrom Foundation