Felicity Hammond (UK)
Fault Line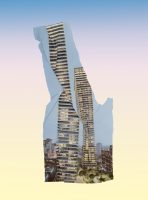 Image: Felicity Hammond, Fault Line (detail), 2020.
Venues
89 Franklin St, Melbourne

24 hrs
Accessibility
Wheelchair access
'Faults' and 'folds' are not just terms associated with natural geology—they are also used when speaking of financial instability. As urban centres in global cities are upturned by a global pandemic, and the resulting social and economic turmoil, questions are raised about the function, meaning and morphology of these traditional meeting points.
Presented in an area undergoing vast urban transformation, Fault Line transforms the utopian renders that are often used to advertise developments. Torn and creased, the manipulated utopian render embodies the fragile surface of urban space, asking us to consider the role we play in shaping the future of cities.
Commissioned by Photo Australia and the Metro Tunnel Creative Program for PHOTO 2021
On display from 18 February 2021