CAMP (IN)
Haunted by Sirens and Poets
1 March 2024 - 27 April 2024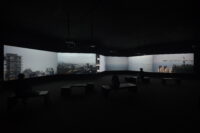 Image: CAMP, Bombay Tilts Down, 2022. Seven-channel environment with music, 13 min 14 sec (looped). Filmed by CCTV camera from a single-point location in South-Central Mumbai.
A city under the gaze of surveillance.
When
1 March 2024 - 27 April 2024
Venue
Level 2, Building 100, RMIT University, cnr Victoria St & Swanston St, Carlton
Tue – Fri, 11am – 5pm
Sat, 12.30pm – 5pm
Accessibility
Wheelchair access
Price
Free
Mumbai-based collaborative studio CAMP, founded in 2007, creates acclaimed works across video, film, digital media, and public art forms.
Surveillance and news media both shape and reveal how we live in the world today. Bombay Tilts Down, 2022 is a seven-channel video using CCTV from a 35-floor building in South-Central Mumbai while the installation, A Photogenetic Line, 2019 uses carefully cropped photographs from the archives of The Hindu newspaper. CAMP interrogates the cycle and power of media sources. Their works turn our gaze to the ever-present cameras that surround us and the tension they produce.
Bombay Tilts Down was commissioned by The Nam June Paik Centre and Kochi-Muziris Biennale.
Curated by Helen Rayment
Curators
Helen Rayment

Helen Rayment, Manager Galleries RMIT Culture, is responsible for developing and managing the artistic programming strategy for RMIT Culture's Galleries. Helen has a specialist interest and curatorial practice focussed on the Australia / India cultural space. Projects have comprised of the development of creative engagements for both RMIT University and independently in India, funded by Creative Victoria and the India Australia Institute. She has also received Creative Australia funding for research projects in India aimed at promoting and sharing bilateral creative opportunities between artists and art workers.