Holding On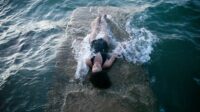 When
29 April 2022 - 22 May 2022
Venue
Cnr Southbank Blvd & Dodds St, Southbank
24 hrs
Theme
Accessibility
Wheelchair access
Price
Free
Holding On features the artist Angela Tiatia, struggling to not be washed off a cement slab by the relentless waves of an incoming tide on the Pacific nation of Tuvalu.
Tuvalu is one of the world's lowest laying countries, and as such is already suffering the impacts of climate change. The ravaging of South Pacific nations by the effects of climate change is a strong line of cultural indictment throughout the artist's practice.
This work can be viewed day and night on the Buxton Contemporary screen.