Aziz Hazara (AF)
I am looking for you like a drone, my love
14 April 2022 - 21 May 2022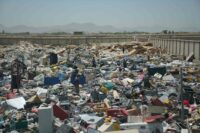 Image: Aziz Hazara, I am looking for you like a drone, my love (detail), 2021. Courtesy the artist.
When
14 April 2022 - 21 May 2022
Venue
Victorian College of the Arts
40 Dodd St, Southbank
Tue – Sat, 12pm – 5pm
Accessibility
Wheelchair access
Price
Free
I am looking for you like a drone, my love presents new large-scale photographs by artist Aziz Hazara along with carpets by unknown makers from Afghanistan.
Deeply impacted by the withdrawal of international troops from Afghanistan in 2021, Hazara has created new works that document the packaging, electronic waste, furniture and random junk left behind after two decades of foreign occupation. Combining these images with handmade carpets from the region, this exhibition alludes to the complexities of being human in a landscape of change and continuity.
Hazara is the winner of the Future Generation Art Prize 2021, the prestigious global art prize for artists under 35.