INSTAGRAM LIVE: Photography, Festivals, and the Art Market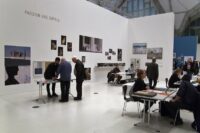 When
2 May 2022
Monday, 5-6pm
(AEST)
Boris Eldagsen and Alexander Hagmann from Deutsche Fotografische Akademie, Yasmin Meinicke, Director, Biennale für aktuelle Fotografie, Mannheim, and Elias Redstone, Artistic Director, PHOTO 2022 discuss how festivals support artists.
Eldagsen and Hagmann host a regular talk in which they discuss aspects of artistic photography on Instagram Live, with selected guests, and anyone who wants to spontaneously join. One of their main topics of conversation is "Photography and the Art Market". With PHOTO 2022 and the Biennale for Contemporary Photography in Mannheim they will talk about the festival world, how its funded, its strengths and weaknesses, and if and how it is connected to the editorial, galleries and institutions.
The German Photographic Academy (Deutsche Fotografische Akademie) has dedicated itself to artistic photography for 100 years. They discuss, exhibit and promote artistic photography – publicly, non-commercially and not-for-profit. They organise conferences and invite guests, members, emerging artists and the public. The presentations are summarised in a magazine and streamed live on social media.
This talk is taking place on Instagram Live.
You can join the talk via these three instagram profiles:
@deutschefotografischeakademie
Speakers
Boris Eldagsen (DE)

Berlin-based German artist Boris Eldagsen (*1970) studied photography and visual arts at the Art Academies of Mainz (Germany) and Prague (Czech Republic) and the Sarojini Naidu School of Arts & Communication Hyderabad, India. In addition, he studied philosophy at the Universities of Cologne and Mainz. His photomedia work has been shown internationally in institutions and festivals including CCP Melbourne, ACP Sydney, Edinburgh Art Festival, FORMAT Derby, SIPF Singapore, IPFl Hyderabad, Chobi Mela Dhaka, Noorderlicht Groningen, Voies Off Arles, the Kochi-Muziris Biennale, and BEAP Perth. Since 2004, Boris has lectured at various universities and art schools such as Victorian College of the Arts / University Melbourne, PSC Melbourne, Kunsthochschule Mainz and Hochschule Furtwangen. As he was based in Melbourne between 2003-2009 he has also given workshops for ACP, CCP, RMIT University and Monash University. Boris is a member of Deutsche Fotografische Akademie and responsible for their online activities.

Alexander Hagmann (DE)

Alexander Hagmann is a freelance photographer and artist specialising in portraits and movement. He studied photography at the FH Dortmund University of Applied Sciences and Arts, where he completed his Master's degree in photography on the interpretive possibilities of the dance image. His work as a founding member of the cahiers series and as organiser and moderator of the symposium "Vom Nutzen der Bilder" inspired him to the concept of dieMotive. He is the publisher and editor-in-chief of dieMotive, a multimedia platform dedicated to photography in all its manifestations and cultural expressions in print, social media and podcast.

Yasmin Meinicke (DE)

Yasmin Meinicke has been the managing director of the Biennale für aktuelle Fotografie since 2016. In this function, she rebranded the association from Fotofestival to Biennale für aktuelle Fotografie and has realized three editions to date. In cooperation with the University of Heidelberg she conceived the series of talks "Photography & Science in Dialogue" in 2020. She also realized a conference and exhibition on smartphone photography in collaboration with Thomas Schirmböck at ZEPHYR – Raum für Fotografie, Mannheim in 2019. Yasmin Meinicke studied art history and philosophy at the Freie Universität Berlin and worked at the Kolleg-Forschergruppe Bildakt und Verkörperung and the Exzellenzcluster Bild-Wissen- Gestaltung at the Humboldt Universität Berlin. She (co-)curated exhibitions for the Kleine Humboldt Galerie, Berlin, and the Heidelberger Kunstverein.

Elias Redstone (UK)

Elias Redstone is the founder and Artistic Director of PHOTO 2021 International Festival of Photography. With over 15 years experience within the arts sector, Elias has a track record of initiating and delivering innovative cultural programs in collaboration with leading institutions such as Barbican Art Gallery, MoMA and Storefront for Art and Architecture. He was Curator of the Polish Pavilion at the 2010 Venice Biennale and Senior Curator at the Architecture Foundation, London. He has edited publications for Prestel, Sternberg Press and Bedford Press, and served as Contributing Editor for Arena Homme Plus and GQ Style. His book Shooting Space: Architecture in Contemporary Photography is published by Phaidon.