Martine Gutierrez (US)
Internet Immigrant
29 April 2022 - 3 July 2022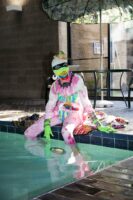 Image: Martine Gutierrez, Queer Rage, Swimming Lessons, p75 from Indigenous Woman, 2018. (c) Martine Gutierrez; Courtesy of the artist and RYAN LEE Gallery, New York.
When
29 April 2022 - 3 July 2022
Venue
404 George St, Fitzroy
Wed – Sun, 11am – 5pm
Accessibility
Wheelchair access
Price
Free
The work of American photographer and performance artist Martine Gutierrez subverts conventional ideals of beauty to reveal how deeply sexism, racism, transphobia and other biases are embedded in our culture. The exhibition moves from the chaotic and bombastic to the anthropological, including a large-scale wallpaper designed specifically for the exhibition, and Neo-Indian studio portraits incorporating indigenous textiles of Gutierrez's Mayan heritage.
Playfully, Gutierrez reworks the very conduits of advertising that sell the identities she disassembles. Hybridizing the industry's objectification of sex with the individual's pursuit of self, Gutierrez satirically undermines the aesthetics of what we know.
Gutierrez entered the world stage with Indigenous Woman, a 124-page magazine and photographic series with the artist starring as editor, model, stylist, photographer. A full suite of works, as Gutierrez describes, dedicated to "the celebration of Mayan Indian heritage, the navigation of contemporary indigeneity and the ever-evolving self-image."
Curated by Photo Australia
Supported by Mark Henry and Fini Frames