Launch: 'Send Me a Lullaby' by Emma Phillips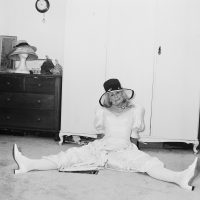 When
28 February 2021
Sunday, 3-4pm
(AEST)
Venue
404 George St, Fitzroy
Wed – Sun, 11am – 5pm
Accessibility
Wheelchair access, Auslan interpretor
If you require an Auslan interpreter please make your booking 3 business days in advance.
PHOTO Editions is a new series of photobooks co-published by PHOTO Australia and Perimeter Editions. The first photobook; Emma Phillips: 'Send Me a Lullaby', will be launched at PHOTO 2021.
Join publisher Dan Rule, designer Ziga Testen and artist Emma Phillips in conversation about her photobook 'Send Me a Lullaby', and the intricacies and challenges involved in its design and publication.
'Send Me a Lullaby' is a love letter to a city undergoing immense change, created during a period of both urban transformation and global upheaval. Emma Phillips was commissioned by Photo Australia to make a photographic portrait of Melbourne in the lead up to PHOTO 2021. The resulting project is a reflection on connection, navigation and time, and the constantly evolving relationship between people and place. Phillips' photographs contemplate urban, domestic and psychological space. Weaving into this series are portraits of people Phillips has come across in Melbourne, capturing a living, breathing city as it responds to the fallout of bushfires and a pandemic. These disparate photographs taken across different seasons construct a dialogue between some of the city's component parts—homes, shops, parks, streets—with archaeological objects from beneath the city, offering myriad stories to uncover and tell.
Supported by Hillvale
Free, registrations required.
Part of PHOTO 2021's Photobook Weekend
Speakers
Ziga Testen (SI)

Ziga Testen is a graphic designer currently based in Melbourne, Australia. Typically the focus of his practice is contemporary art and culture and he prioritises work in close collaboration with artists, curators and cultural organisations. Rather than an aesthetic or style, a context and project specific solution is sought out for each individual commission.

Dan Rule (AU)

Dan Rule is a publisher, writer and editor from Melbourne, Australia. He is the co-director of Perimeter Books, Perimeter Distribution and Perimeter Editions, for which he has published, edited and written for upward of 50 books on contemporary photographers and artists from around the world. He has published more than 3000 articles, reviews and interviews on art, photography, design and culture more widely for international publications and institutions.

Emma Phillips (AU)

Emma Phillips (Sorrento, 1989) is a photographer based in Melbourne, Australia. Her recent exhibition 'Too Much to Dream' turned its gaze toward a speculative mode of image making, using image and text to proposition representational discourses, exchanges between subjects' and their image and the intimate, idiosyncratic nature of photographs. Emma is an occasional writer and teacher on photographic practice, contributing to journals such as The Heavy Collective and teaching at Penumbra Foundation. She graduated in 2017 with an MFA from the University of Hartford's International Limited-Residency program. Emma is represented by ReadingRoom, Melbourne.