4 March 2021 - 13 March 2021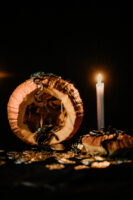 Image: Natasha Hertanto
When
4 March 2021 - 13 March 2021
Venue
Flinders Walk, Northbank, Melbourne
Thu – Sat, 12pm – 4pm
Accessibility
Wheelchair access
Due to lockdown restrictions delaying installation of this exhibition, LEGENDA will now open on 4 March at SIGNAL.
The mural on boards outside SIGNAL will be on display 24/7 from 4 – 19 March.
An exciting new work from SIGNAL's Young Creatives, Natasha Hertanto and Helena Wijaya's LEGENDA (a word that roughly translates as 'folklore' or 'legend' in Bahasa Indonesia) is a photo essay that portrays Indonesian mythologies while reinterpreting and challenging the moral messaging behind them.
Incorporating photography with textiles and murals, LEGENDA interrogates the role of oral stories—how they become woven into national identities, sit in the gaps between generational perspectives, and invite alternative narratives to engage with compassion and curiosity. The series follows mythical characters from four popular Indonesian folklore in Melbourne settings, interrogating the inherently 'Indonesian values' individual Indonesians sometimes carry despite geographic relocation.
Co-creators: Clara Tandi and Karen Kartikahadi.