Massimo Vitali (IT)
Leporello 2020
29 April 2022 - 22 May 2022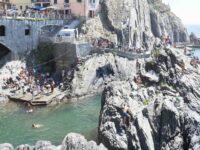 Image: Massimo Vitali, Manarola Paranco, August 15th, 2020, from the series Leporello 2020. Courtesy the artist.
When
29 April 2022 - 22 May 2022
Venue
Shop 5, Upper Level 3,
3 Southgate Ave, Southbank
Tue – Fri, 10am – 5pm
Sat – Sun, 10am – 4pm
Accessibility
Wheelchair access
Price
Free
The Italian Cultural Institute, together with Monash Gallery of Art, presents the first solo exhibition in Australia of the famous Italian artist, Massimo Vitali.
He is best known for his large-scale colour images of beaches and mass leisure events. Vitali has never been drawn to emptiness, and deserted cities hold little interest for him. Following the spring lockdown, as soon as it was possible to leave the house in Italy and travel outside one's own town, people began to return to the beaches. And Vitali was there, ready to capture the Italians during their moments of relaxation and leisure, as if to ask himself if they had really changed.
Presented by The Italian Cultural Institute and Monash Gallery of Art