21 May 2022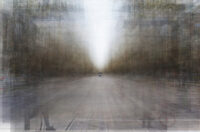 Cyrus Tang, Melbourne City, 2021. Courtesy the artist.
When
21 May 2022
Saturday, 2-3pm
(AEST)
Venue
26 Acland St, St Kilda

Tue – Sun, 11am – 4pm
Price
Free, bookings required
Join Linden New Art for an intimate conversation with Cyrus Tang about her exhibition Time Fell Asleep in the Evening Rain.
Tang will share with us her hauntingly beautiful composite digital images that reference the slowing down of time, the repetition in our daily lives and the increased space afforded to us during lockdown to observe, think and feel. The exhibition reflects Tang's continued examination of the paradox of reconstructing ephemeral mental images and sensations in permanent materials.
Artist
Cyrus Tang (HK/AU)

Born Hong Kong
Lives and works Melbourne, Australia

Cyrus Tang's practice is concerned with the human experiences of memory and forgetting, absence and presence, loss and resurrection. The photographic medium itself is also caught in this drama of loss and recovery. The visual effects Tang uses are all analogue. This is crucial to her practice as she wishes to preserve the analogue world, which is being dissolved by digital media. Her photographs are presented in post-production digital formats, but she produces the work materially in the studio using labour-intensive, analogue methods. Tang sees the analogue as a ruin or the memory that is being eroded, which she aims to resurrect.