Lingam. K (MY)
Melting Icescapes/Black Landscapes
1 March 2024 - 26 May 2024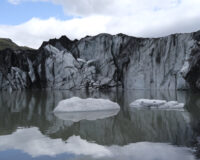 Image: Lingam. K, Sólheimajökull, Iceland 7th July, 2023.
Deteriorating image captures the fragility of our slowly-receding icescapes.
When
1 March 2024 - 26 May 2024
Venue
860 Ferntree Gully Rd, Wheelers Hill
Tue – Fri, 10am – 5pm
Sat – Sun, 10am – 4pm
Accessibility
Wheelchair access
Price
Free
Melting icescapes are one of the most visual indicators of global warming. As humans continue extractive and consumerist industries, our behaviours permanently impact the landscape, resulting in significant ecological impact—leaving an ineradicable 'human signature'.
Melting Icescapes/Black Landscapes is a response to the glacial melt driven by climate change. Using the alternative photographic processes of salt printing, Lingam K captures the impending ecological collapse and encourages reflection on our relationship and impact on the landscape. The project visually articulates the passing of time through the fading of the salt print and the impacts of climate change on glacial landscapes.
Curated by Angela Connor Supported by The Albert and Barbara Tucker Foundation