Montages: The Full Cut, 1999–2015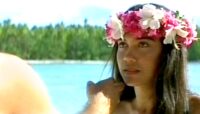 For the first time ever, this exhibition brings together the full suite of eight montage films by Tracey Moffatt and her long-time collaborator Gary Hillberg. Created using deliberately-stylised artifice that references the history of art and photography, Moffatt's work is celebrated for the masterful way it manages to communicate the highly personal alongside meanings of universal significance.
Montages: The Full Cut, 1999–2015 is an ode to cinema and to the cinematic form. Spanning Moffatt and Hillberg's 16-year collaborative practice, the suite of montages includes thousands of clips from Hollywood films, spliced together to create new narratives that tap into the humour and pathos of art, revolution, love and destruction.
Montages: The Full Cut, 1999–2015 was curated and developed by Artspace, Sydney and is touring nationally in partnership with Museums and Galleries of NSW.