1 March 2024 - 24 March 2024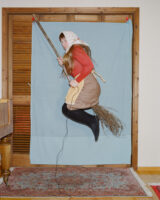 Image: Teva Cosic, Untitled (till blåkulla), 2022.
Six new names in photography show us the future of the artform.
When
1 March 2024 - 24 March 2024
Venue
83 Weston St, Brunswick
Wed – Fri, 12pm – 5pm
Sat, 12pm – 4pm
Accessibility
Wheelchair access
Price
Free
New Photographers returns for PHOTO 2024, showcasing work by Victoria's most inspiring emerging photographers. This exhibition brings together six artists exploring concepts of construct, contrast, community, and the self. Their works are united by a unique approach to their subjects, ranging from humour to the surreal, and technique, including staging, assemblage and collage.
Kyle Archie-Knight's ongoing series Cruising for a Bruising is at once a poignant and humorous reflection on his experience growing up queer in in the outer suburbs of Naarm (Melbourne). Cecilia Sordi Campos pushes the boundaries of photography to examine ideas of womanhood, identity and the body, while Erhan Tirli combines a documentary and staged approach to explore long-term ethnography of culturally and linguistically diverse (CALD) communities.
Teva Cosic's work draws on personal and cultural narratives around family, history, tradition, and mythology to consider ideas of stability in the face of uncertain futures. Mixing documentary practices and found imagery, Pearce Leal explores the interrelationships between humans and fragile ecologies, and Nicholas Mahady work focuses on the relationship between atmosphere and image, and representing the unrepresentable.
Curated by Catlin Langford Presented by PHOTO Australia Supported by Naomi Milgrom Foundation Framing supported by Fini Frames Printing supported by Print Shop @PSC