Lauren Dunn (AU)
New Romanticism
20 February 2021 - 11 March 2021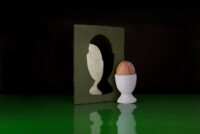 Image: Lauren Dunn, Shopping for eggs, 2020.
When
20 February 2021 - 11 March 2021
Venue
28 Rokeby St
Collingwood
Thu – Sun, 12pm – 6pm

Accessibility
Wheelchair access
Melbourne-based artist Lauren Dunn continues her enquiries into the role that images play in affecting our relationships with food, looking particularly at their influence on the politics and ethics surrounding consumption trends. Her latest work is an examination of the power structures hidden behind romanticised plant-and-animal imagery in the promotion of the food we eat.
Comprising images and sculptural gestures, New Romanticism plays out the findings of Dunn's extensive research, while engaging in contemporary questions surrounding photographic practise. Manipulating ideas of photographic thinking, Dunn twists the codes and conventions of commercial photography, and presents a thought-provoking take on the post-photographic landscape.
24/7 visibility from Rokeby Street