ನಿರೀಕ್ಷಣೆ nireekshane - the act of seeing
1 March 2024 - 27 April 2024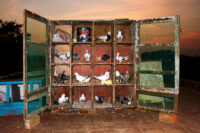 Image: Arun Vijai Mathavan, Millenia of Oppression, 2016.
Hypnotic and subversive voices from South Asia.
When
1 March 2024 - 27 April 2024
Venue
521 Queensberry St, North Melbourne
Mon – Fri, 10.30am – 4.30pm
Sat, 11am – 4pm
Closed on Public Holidays
Accessibility
Wheelchair access
Price
Free
Across two artist studios at Arts House, ನಿರೀಕ್ಷಣೆ nireekshane – the act of seeing showcases a broad array of works by traditional and innovative artists from South Asia and its diaspora.
In this exhibition vernacular lens-based practices take center stage, bringing forth forgotten and overlooked lived experiences in South Asia and cultivating equity in photographic practices emerging from the margins.
Presented as an oeuvre of each artist's practice, the surreal, hypnotic, and subversive techniques employed in the creation of photographic narratives become visible. The works traverse themes of domesticity, belonging, and landscape, drawing parallels between the notions of purity in social hierarchies and within photographic approaches.
Personal and communal histories are woven together as intimate exchanges occurring across time and geography and, in centering the act of seeing itself, the exhibition advocates for a comprehensive re-evaluation of what constitutes contemporary visual culture in South Asia.
Curated by Vishal Kumaraswamy
Curators
Vishal Kumaraswamy

Vishal Kumaraswamy is an artist-curator working across text, film, sound, performance and computational arts. His practice draws from his Dalit heritage to investigate a range of critical concerns around caste, race and technology. His works have been shown at the Venice Biennale's Research Pavilion, ARKO Art & Tech Festival, SITE Gallery Sheffield, Contemporary Calgary, HKW Berlin and he is currently exhibiting at the Rencontres d'Arles 2023. Vishal is a current research fellow at the Center for Contemporary Art, Derry~Londonderry and the inaugural curator for the Equity Builder at Arts House, City of Melbourne for 2023 & 2024. He lives & works in Bengaluru, India.