Talk: Not for the Sake of Something More
20 February 2021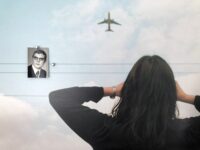 Image: Sanja Pahoki, Maketake.
When
20 February 2021
Saturday, 3-5pm
(AEST)
Venue
Level 1/12 Collins St, Melbourne
Thu – Sat, 12pm – 5pm
Accessibility
Wheelchair access on request, please call the gallery on 03 9654 4429
Kiron Robinson, curator of Not for the Sake of Something More, will discuss the exhibition with Sanja Pahoki and Ali McCann in an informal artists' talk.
This exhibition explores photography beyond its representational fidelity to engage with the doubtful action of looking. Photographs no longer reflect the world; rather the world reflects them. They deliver a version of reality that at surface level is consumed as 'truth'. As such, photographs demand an act of faith.
Participating artists will explore questions such as: What is photography today? How can the photographic image represent in a post-truth deep fake world? And how can artists say anything with a medium that requires such faith?
Presented as part of PHOTO 2021's Launch Weekend.
Free – booking required.
Speakers
Kiron Robinson (AU)

Kiron Robinson is an artist who lives and works out of Melbourne. He loves photographs but does not trust them. He uses a number of photographic strategies in different mediums to interrogate the image. His work circulates around a set of ideas that he recognises in the photograph – belief and doubt in the ability to believe except through doubting.

Since 2003 Robinson has exhibited his work widely both nationally and internationally. He has held recent solo exhibitions at Sarah Scout Presents and the Centre for Contemporary Photography. He has curated a number of exhibitions questioning the current photographic condition including at West Space and Benalla Art Gallery. His work is held in a number of public and private collections.

His favourite gum was Hubba Bubba grape flavour.

Ali McCann (AU)

Ali McCann lives and works in Naarm / Melbourne. She completed a Master of Contemporary Art at the Victorian College of the Arts, University of Melbourne, in 2017. She also holds a Bachelor of Fine Arts in Photography from the Victorian College of the Arts, University of Melbourne. Since the early 2000s she has exhibited in solo and group exhibitions nationally. Recent solo exhibitions include Οι νέοι, Gertrude Contemporary, Melbourne (2019), Having an Experience/ Energy Organisation, Melbourne (2019), Masks for Magicians, Caves, Melbourne (2018); Polytechnic, Tristian Koenig, Melbourne, (2018); An Introduction to Liminal Aesthetics, c3 contemporary art space, Melbourne (2017); and Throwing off the Hump, Kings Artist Run, Melbourne (2017). Her work has previously been shown at West Space, Melbourne; Bus Projects, Melbourne; TCB Art Inc., Melbourne; Home@735, Sydney; Chalk Horse, Sydney; and China Heights Gallery, Sydney. She currently teaches Photography & Photo Imaging at the Northern College of the Arts and Technology, Melbourne.

Sanja Pahoki (AU)

Born Osijek, Croatia
Lives and works Melbourne, Australia

Sanja Pahoki uses photography, video, neon and text to explore observations from everyday life. Existential issues such as the nature of self, identity and the role of anxiety are recurring themes in her work. As the autobiographical is the initial inspiration for much of Sanja's work, humour is often employed as a strategy to direct attention away from the personal to shared universal concerns. In 2018, Sanja was awarded a Doctor of Philosophy from Monash University. Pahoki's artwork has been exhibited both nationally (ACCA @ Mirka at Tolarno Hotel, Heidi Museum of Modern Art, Centre for Contemporary Photography, Gertrude Contemporary Art Spaces, Australian Centre for Photography in Sydney) and internationally (Brussels, Japan, Shanghai, Vienna, Berlin, Paris and Rotterdam). Pahoki is currently the Head of Photography at the Victorian College of the Arts, University of Melbourne. She is represented by Sarah Scout Presents, Melbourne.