One of Them Is a Human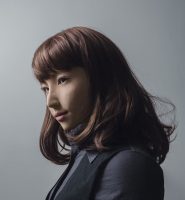 When
19 February 2021 - 7 March 2021
Venue
Argyle Square/Lygon St, Carlton
Outdoor work – accessible all hours
Accessibility
Wheelchair access
Due to lockdown restrictions delaying installation of this work, One of Them is a Human will now be installed on Friday 19 February.
"Do androids dream about being featured in portrait competitions?"
When The New York Times posed this question to readers, it was in response to Finnish photographer Maija Tammi's work One of Them Is a Human. Presenting three androids and possibly one human, the series garnered controversy after winning two awards in one of the world's largest photographic competitions, the Taylor Wessing Photographic Portrait Prize. The rules of the prize state that submitted images must portray "a living sitter". At a time when our species is facing the very real prospect of technological replacement, One of Them Is a Human asks an unsettling question: how do we define 'alive'?
Presented by Photo Australia for PHOTO 2021