Opening: It was the best of times, it was the worst of times (cancelled)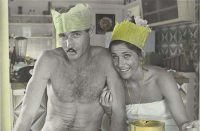 When
20 February 2021
Saturday, 5-7pm
(AEST)
Venue
404 George St, Fitzroy
Wed – Sun, 11am – 5pm
Accessibility
Wheelchair access
Unfortunately, due to unforeseen circumstances this event has been cancelled.
Join us for the opening of a major survey of one of Australia's preeminent social documentary and feminist photographers, Ruth Maddison. The exhibition celebrates Maddison's significant contribution to the documentation of Australian life and society since the 1970s—from her earliest iconic hand-coloured works, the working life of women, Melbourne's social and cultural life of the 1980's, and documentation of the people and industries of her adopted home of Eden. Additionally debuting Maddison's 'The Fellow Traveller', a photographic installation exploring her father's radical political activities from the 1950s–1980s that were under ASIO scrutiny.
The exhibition will be officially opened by Shaune Lakin, Senior Curator of Photography, NGA.
Part of PHOTO 2021's Launch Weekend.
Free – bookings required.
Speaker
Shaune Lakin (AU)

Dr Shaune Lakin is Senior Curator Photography, NGA. Shaune was previously Gallery Director, Monash Gallery of Art, in Melbourne. MGA is Australia's only public gallery dedicated to collecting Australian photography and has over a 24-year period built a nationally significant collection. Before joining MGA in late 2008, Shaune was Senior Curator of Photography at the Australian War Memorial, where he wrote the first major history of Australian conflict photography and was curator of numerous exhibitions. Previously, he was Curator of International Art at NGA and a lecturer in art history and theory at the University of Melbourne, where he completed his PhD in photographic history in 2002. Shaune has written widely on the history of Australian and International photography and curated many exhibitions.