20 February 2021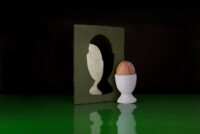 Image: Lauren Dunn, Shopping for eggs, 2020.
When
20 February 2021
Saturday, 3-6pm
(AEST)
Venue
28 Rokeby St
Collingwood
Thu – Sun, 12pm – 6pm

Accessibility
Wheelchair access
The official exhibition opening of New Romanticism by Lauren Dunn. Lauren continues her enquiries into the politics and ethics surrounding food consumption trends and the role images play in this relationship. Through research Lauren examines the undying power structures hidden behind the romanticism of food specific plant and animal popular imagery. Presenting a new body of work comprising of images and sculptural gestures Lauren plays out her research findings while engaging in contemporary questions surrounding photographic practise. She employs the idea of photographic thinking through the material and works to twist the codes and conventions of commercial photography presenting a thought provoking and insightful take on the post photographic landscape.
Free drinks