our truth, our history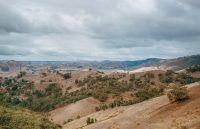 Venues
Swanston St (cnrs of Franklin and A'Beckett Sts), Melbourne
Outdoor work – accessible all hours
Accessibility
Wheelchair access
our truth, our history asks the viewer to question the 'truths' that are held about this land and its first people, doing so through large scale photographs taken across the Kulin Nations, lands within what is now referred to as 'Victoria'.
Stewart's landscapes, exhibited within the CBD, reveal that the connection to country is as true within the urban environment as it is within the bushland he depicts. His images make a connection with memory, history, and possible futures on this land.
Alan Stewart has been mentored by the RMIT School of Art.
Commissioned by Photo Australia and the Metro Tunnel Creative Program for PHOTO 2021
On display from 18 February 2021