Performance: Composite Acts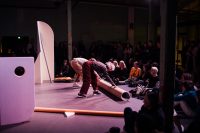 When
6 March 2021
Saturday, 12-3:30pm
(AEST)
Venue
254 Brunswick St, Fitzroy

Wed – Sat, 11am – 5pm
Accessibility
Wheelchair access can be arranged. We recommend calling in advance. The artwork does not have Auslan interpretation and the video is not captioned, however we will be making an accessible PDF of the video transcript available on our website. A printed copy can also be made available to visitors upon request.
PLEASE NOTE: This event has now been rescheduled to take place on 6 March. All sessions will be live streamed through the Sutton Gallery Viewing Room.
Sessions: 1 – 1.30pm, 2.30 – 3pm, 4 – 4.30pm
David Rosetzky's enigmatic project 'Composite Acts' features a series of performances with choreography by Jo Lloyd and performed by Shelley Lasica, Harrison Ritchie-Jones and Arabella Frahn-Starkie, with set-design by Sean Meilak. 'Composite Acts' traverses video, performance, choreography, set-design and photography to explore non-binary identities and the relative and fragmentary nature of the self. To produce the work, Rosetzky interviewed his collaborators about their personal relationships and family histories to devise a script that forms the nexus of the piece. The script is subsequently spoken, deconstructed, and integrated with choreographed movement enacted in dialogue with a suite of sculptural objects.
Part of PHOTO 2021's Launch Weekend.