PHOTO LIVE: Luke Parker, Grace Wood, Emmaline Zanelli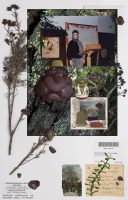 When
19 February 2021
Friday, 3-3:45pm
(AEST)
This event is a livestreamed online event and it is not possible to attend the event in person at MPavilion.
Isobel Parker Philip; Senior Curator, Contemporary Art at the Art Gallery of New South Wales, joins artists Luke Parker, Grace Wood and Emmaline Zanelli to discuss the site responsive group exhibition 'Garden Variety: Photography, Politics and the Picturesque', taking place at the Royal Botanic Gardens Melbourne. Join us to find out more about the curatorial and artistic processes involved in the creation of this ambitious exhibition.
Free, registrations required. This event has been moved online.
Speakers
Luke Parker

Luke Parker is an artist based in Sydney. He uses photography techniques to create works that examine the human experience in relation to universal phenomena and time. Reference to early scientific photography, particularly astronomy photography, is a recurring motif. Some works collapse together multiple sources and techniques: analogue photograms; photos made with early cameras; images made using digital technology, or found images extracted from an archive of historic photography, books, cinema and other sources. These works navigate associative connections through the overwhelming proliferation of photographic imagery since the 19th century. Parker's work has been included in exhibitions at the Art Gallery of New South Wales, the National Gallery of Victoria, Geelong Gallery, Gertrude Contemporary, the Centre for Contemporary Photography, Monash Gallery of Art, Carriageworks, Artspace, the National Art School Gallery, Campbelltown Arts Centre, and Penrith Regional Gallery. He has made works for many artist-run galleries, including for 55 Sydenham Road Marrickville, a project space where he was also a member of the artist board from 2015–18.

Isobel Parker Philip (AU)

Isobel Parker Philip is the Senior Curator, Contemporary Art at the Art Gallery of New South Wales. She has recently held the position of Curator, Photographs at the same institution. In 2019 she was the AGNSW's representative curator for the second edition of The National: New Australian Art, a major biennial survey of contemporary Australian art held across AGNSW, Carriageworks and the Museum of Contemporary Art Australia. Many of her past curatorial projects have addressed the complexity and elasticity of the photographic medium and include Imprint: Photography and the Impressionable Image (2016), New Matter: Recent Forms of Photography (2016–17), Pat Brassington: The Body Electric (2017–18) and Hold still: The Photographic Performance (2018). In 2017 she was the coordinating curator of Robert Mapplethorpe: The Perfect Medium. Isobel lectures and publishes widely and serves on the advisory committee of the Murray Art Museum Albury and is an advisor for PHOTO 2020: International Festival of Photography.

Grace Wood (AU)

Grace Wood is an artist from Narrm, Australia. In 2014, she graduated from the Victorian College of the Arts with a Bachelor of Fine Art (Honours). Grace utilises her ever-expanding collection of images to create collage-based installations that dissect eccentricities of the internet archive, notions of elitist art history, and contemporary photography. Her work is concerned with the concept of the archive, and digital technology's capacity to generate, alter and namelessly disperse images.

Grace has exhibited extensively in Australia; some recent exhibitions include Thirsty, LON Gallery, VIC, 2022; Garden Variety, PHOTO 2021 at Royal Botanic Gardens, 2021; The Image, Blindside, 2021; Ground Control, Richmond Town Hall Gallery, VIC, 2021; There are no new waves, only ocean, LON Gallery, VIC, 2020; Ersatz, Cool Change Contemporary, WA, 2019. Grace completed a public commission for City of Stonnington and Mars Gallery (VIC) in 2020 and undertook the AARK Archipelago Art Residency, Finland in 2019. Grace is represented by LON Gallery, VIC.

Emmaline Zanelli (AU)

Emmaline (b.1994, AUS) is an emerging artist living and working on Kaurna land (Adelaide, South Australia). Her practice involves combinations of performance and sculpture in projects that are almost always presented as photography or video. A consistent theme throughout her work is memory, which she explores broadly — from considering our motivations to research prehistoric life, to how her grandmother's memories may be imparted on to her.  Zanelli is passionate about collective practice and deepening her understanding of what collaboration actually means in arts practice, in particular in photography. Alongside her personal practice, she has worked with South Australian multi-disciplinary arts collective The Bait Fridge since 2016 to make costumes and performances at public events. Zanelli's work has been exhibited in galleries including the Perth Institute of Contemporary Art (WA), Stills Gallery (NSW), Bus Projects (VIC), and ACE Open (SA). Currently she is studying a Master of Photography at Photography Studies College.