PHOTO LIVE: Rafaela Pandolfini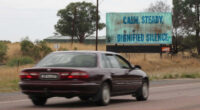 When
25 February 2021
Thursday, 6:30-7:15pm
(AEST)
Venue
Level 7/34 Little Collins Street, Melbourne
(access via lifts on Mcilwraith Place)
Accessibility
Wheelchair access, Auslan interpretor
Wheelchair and general access to Level 7 is via lifts from ground floor off McIlwraith Place.
If you require an Auslan interpreter please make your booking 3 business days in advance.
Join Amelia Wallin, director of West Space in conversation with artist Rafaela Pandolfini as they discuss her festival exhibition Myths & Facts.
A procession of photographs displayed on billboards dispersed along the Hume Highway between New South Wales and Victoria, portray phrases pertaining to the legal definition of climate action and words drawn from environmental policies. Transposed from official documents onto "chux" cleaning cloths, the recognisable zigzag pattern of the chux is a recurring motif in the artist's ongoing exploration of gendered and emotional labour.
Free, registrations required. This event has a limited live audience capacity and will also be live streamed.
The live stream will be broadcast on our homepage and Facebook Live (no need to book).
Speakers
Rafaela Pandolfini (AU)

Rafaela Pandolfini is a photographer and artist, also working in the curatorial. Rafaela explores feminine identity in the broadest sense as well as the value of labour. She holds an MFA from UNSW. From 2009 onwards Rafaela spent time photographing in clubs/dancefloors across Sydney, she continues to photograph for many prominent artists and institutions. In 2015 Rafaela created an epic 8 hour video called 02-02 A dance for every day of my pregnancy, exhibited in Realising Mother at Kudos Gallery and Campbelltown Arts Centre. 02-02 explores themes of the performative body, maintenance and care work. Rafaela's curatorial work includes Inside, co-curated with Stella Rosa McDonald, Session Vessels and An Unintended Consequence (of labour) organised with Ainlise Templeton and Cosmopolitan organised with Jana Hawkins-Andersen.

Amelia Wallin

Amelia Wallin is an Australian curator, writer and the Director of West Space.  Her work centres on commissioning and facilitating cross-disciplinary artistic exploration, as well as interrogating alternative models for institution building. Her recent research and writing examines reproductive labour in the space of the contemporary art institution, in relation to care, feminisms, and practices of instituting. Amelia has held curatorial and administrative positions at Performa in New York and the Biennale of Sydney, Performance Space, Campbelltown Arts Centre and Performing Lines in Sydney. She has played an active role in arts development in Sydney through directorial and curatorial positions at Firstdraft, Tiny Stadiums Festival, and as co-founder of the residency and exhibition program Sydney Guild. Amelia holds a Bachelor of Art Theory and a Bachelor of Arts (Honours) from the University of New South Wales, and a Master of Curatorial Studies from Bard College, New York.