6 March 2021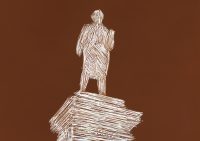 Image: Kate Golding, from the series Near this spot, 2012 – 2020.
When
6 March 2021
Saturday, 11am-12pm
(AEST)
Venue
74 – 108 Spring St, East Melbourne
24 hrs
Accessibility
Wheelchair access, Auslan interpretor
If you require an Auslan interpreter please make your booking 3 business days in advance.
You are invited to accompany artist Kate Golding on a walking tour of her project 'Near this spot' and the nearby site of Cooks' Cottage. Kate will discuss her project which responds, in part, to the cottage.
Free, bookings required
PLEASE NOTE: This event was originally going to take place on Friday February 19, 11am but has now been rescheduled to take place on Saturday March 6, 11am.