Kenta Cobayashi (JP)
Photographic Universe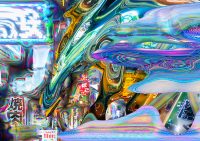 Image: Kenta Cobayashi, Photographic Universe (detail), 2020.
Venues
89 Franklin St, Melbourne

24 hrs
Accessibility
Wheelchair access
Kenta Cobayashi's photographic work is made up of two critical processes: capturing, and manipulating. A lifetime spent online and playing computer games has primed the Japanese artist to see the potential of image manipulation—a common digital activity—as an artistic tool, an opportunity "to touch this world and build rich communication with it."
Cobayashi uses the 'smudge' tool of Photoshop, the tool used to drag the image "as if making a brushstroke on paint." The effect imbues the image with a giddy, ethereal sense of movement, suspending all questions around where photography ends and processing begins.
Commissioned by Photo Australia and the Metro Tunnel Creative Program for PHOTO 2021
On display from 18 February 2021