Anna Carey (AU)
Psychic Visions
1 March 2024 - 24 March 2024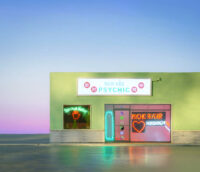 Image: Anna Carey, New Age Psychic, 2022. Courtesy the artist and Sophie Gannon Gallery.
Re-imagining sites of clairvoyance and hope.
When
1 March 2024 - 24 March 2024
Venue
2 Albert St, Richmond
Tue – Sat, 11am – 5pm
Accessibility
Wheelchair access
Price
Free
Psychic Visions examines the way people attempt to make sense of reality, chaos, restriction and things unseen. Throughout Covid, once-busy streets were isolated, businesses closed, and shopfronts were boarded up. However, within the chaos, the collective psyche of society was apparent in the urban landscape—there remained a utopian glimmer of hope.
Artist Anna Carey explores this polarisation through images of slightly decayed, isolated psychic shops. With their mystical names and bright lights, these stores offer a fantasy and freedom to imagine a new reality. The escapism is heightened by inserting the artist's own real life phone number into the seductive new-age neon signage, inviting viewers to escape with her into a fantasy world.
Featuring a selection of new images exhibited for the first time, Carey's works demonstrate that within every utopia there is an element of dystopia. In unprecedented times, with a shifting collective conscious and existential concern, Anna Carey reminds us that the future is unknown.
Supported by the Queensland Government through Arts Queensland