Pulling Apart Elements from History to Speak to My Own Presence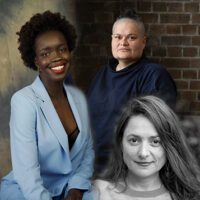 When
11 May 2022
Wednesday, 12-1pm
(AEST)
In conversation with Monash Senior Lecturer Peta Clancy, artists Salote Tawale and Atong Atem reflect on their lived experience from a diasporic perspective and how it has informed and shaped their identities and image making.
Speaking to her Indigenous Fijian and Anglo-Australian heritage, Salote will examine the cultural materiality of the image in relation to diasporic identity. Ethiopian born, South Sudanese artist and writer Atong will reflect on the ways in which their practice has been informed and influenced by the history of African photography—in particular, ethnographic photographic images and the ethical issues inherent to working in this space.
Free, no bookings required. Closed captions provided.
Online here and Monash Caulfield Big Screen
Presented by Monash University as part of PHOTO 2022
Speakers
Atong Atem (SS/AU)

Born 1994, Addis Ababa, Ethiopia
Lives and works Melbourne, Australia

Atong Atem is an Ethiopian born, South Sudanese artist and writer living in Narrm/ Melbourne. Atem's photographic practice explores migrant narratives, postcolonial practices in the African diaspora, and concepts of identity, home, and liminal space.  Her dynamic portraiture references widely, from Malick Sidibe and Seydou Keita to science fiction writer Octavia Butler.  She was awarded the inaugural National Gallery of Victoria and MECCA M-Power scholarship in 2018 and the Brisbane Powerhouse Melt Portrait Prize in 2017.

Peta Clancy (BANGERANG, AU)

Peta Clancy is a Melbourne-based artist who is a descendant of the Bangerang people from south east Australia. She has extensive art school training, including a bachelor degree from RMIT (1992) and a PhD from Monash University (2009). While her practice has incorporated a number of different media, Clancy is primarily a photographer. She has been exhibiting her work since the early 1990s, and has a strong history of residencies and participation in academic conferences. An interest in corporeality runs throughout her work, and she has demonstrated a sustained interest in the physicality of photographic prints. Clancy's recent photographic projects are premised on a depiction of place that are developed through deep listening, created in collaboration with Traditional Custodians. Peta Clancy is represented by Dominik Mersch Gallery in Australia.

Salote Tawale (FJ / AU)

Salote Tawale explores the identity of the individual within collective systems from the perspective of her Indigenous Fijian and Anglo-Australian heritage. Her performative practice draws on personal experiences of race, class, ethnicity and gender formed by growing up in suburban Australia. Salote's works embody a defiant analysis of colonial structures and narratives that persist within contemporary society. She has exhibited nationally and internationally, including the 10th Asia Pacific Triennial at Queensland Art Gallery | Gallery of Modern Art, Brisbane; Perth Institute of Contemporary Arts; Australian Centre for Contemporary Art (ACCA), Melbourne; and Para Site, Hong Kong. In 2020, she received both the Michela and Adrian Fini Artist Fellowship (Sheila Foundation) and the Mosman Art Prize, and in 2017 was awarded the Create NSW Visual Arts Fellowship. Salote undertook an Australia Council residency in London in 2018 and an Indigenous Visual and Digital residency at the Banff Centre, Canada, in 2016. She is currently Associate Lecturer at Sydney College of the Arts, University of Sydney.