Talk: Queering the Frame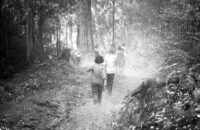 When
7 May 2022
Saturday, 12-1pm
(AEST)
Venue
404 George St, Fitzroy
Wed – Sun, 11am – 5pm
Price
Free, bookings required
Join us for artist talks for Queering the Frame: Community, Time, Photography curated by Photo Australia.
Presenting Australian LGBTQ+ artists across generations, Queering the Frame: Community, Time, Photography considers how the community narrate their histories—how voices are celebrated, how the queer community shift otherwise heteronormative readings of history and information. Please note this exhibition contains images of deceased people.
Speakers
Helen Grace (AU)

Born Gunditjmara Country (Warrnambool), Australia
Lives and works Wangal Country (Sydney), Australia

Helen Grace is an artist, writer and teacher, based in Sydney and (formerly) Hong Kong. She was the Founding Director of the MA Programme in Visual Culture Studies, Chinese University of Hong Kong and is now Associate, Department of Gender and Cultural Studies at the University of Sydney; in 2012-13 she was Visiting Professor in the Department of English, National Central University, Taiwan on a National Science Council Fellowship.

Helen is an award winning filmmaker and new media producer. Her photo media work is in the collections of Artbank, National Gallery of Australia, Art Gallery of NSW and Art Gallery of South Australia as well as private collections nationally and internationally.

Her recent projects include The Housing Question (with Narelle Jubelin), Penrith Regional Galleries, Home of the Lewers Bequest, 2019, Thought Log, SCA Galleries, Sydney (2016) and Map of Spirits, Gallery 4A, Sydney (2015). Her recent books include Culture, Aesthetics and Affect in Ubiquitous Media: The Prosaic Image (Routledge, 2014) and Technovisuality: Cultural Re-enchantment and the Experience of Technology. (Co editors, Amy Chan, Kit Sze and Wong Kin Yuen) IB Tauris, 2016)

Samuel Hodge (AU)

Born 1978, Ngarabal (Glen Innes), Australia
Lives and works Gadigal (Sydney), Australia

Samuel Hodge's practice draws on a twenty-year archive of material, juxtaposing specific objects from unfamiliar places, reanimating imagery, thoughts, and feelings that have been concealed, ignored, or disregarded. This potentially never-ending process inspired Hodge to question the duty and integrity of the materials he's manipulating – this includes photography, textiles, and digital video.

Hodge's recent exhibitions include; The Public Body.02, a curated exhibition at Artspace, Sydney; The Wit of the Staircase, UNSW Gallery, Sydney; The Imponderable Archive, WerkArtz, Los Angeles. In 2017, he was the Artist In Residence at Carriageworks, Sydney, where he presented two public programs in the form of an experimental performance. In 2019, Hodge was awarded the UNSWAAD Cité Des Arts International Studio Residency in Paris. Additionally, Hodge's collaborations have included Melbourne dance company Chunky Move and a collection with Australian fashion icons, Romance Was Born.

The Huxleys (AU)

Garrett Huxley 1973, Melbourne, Australia
Will Huxley 1982, United Kingdom

The Huxleys are a dynamic duo of cataclysmic proportion who present camp commentary and spectacle across the visual art, performance and entertainment sectors. Their photography and performance art traverses the classifications of costume, film and recording. A visual assault of sparkle, surrealism and the absurd, The Huxleys saturate their practice and projects with a glamorous, androgynous freedom which sets out to bring some escapism and magic to everyday life.

Shannon May Powell (AU)

Born 1989, Brisbane, Australia
Lives and works Melbourne, Australia

Shannon May Powell is a writer and visual artist based on Wurundjeri Woi Wurrung land in Melbourne. Their work explores gender, sexuality and impermanence with analogue photography, text, video, and movement. They have exhibited at Berlin Feminist Film Festival, New York Art Book Fair, Melbourne Art Fair, Centre for Contemporary Photography, BLINDSIDE, Seventh gallery, MPavillion, Collingwood Arts Precinct, as well as local and international publications such as Vogue, i-D, Vice and Archer Magazines. Since 2018 Shannon has been an annual artist in residence at the VARDA Artist Residency in California where they spent time researching much of their recent work.

Brendan McCleary (AU)

Brendan McCleary is PHOTO 2022's Associate Curator, born and living on Wurundjeri country. He has worked as a Producer for MPavilion, stage managed events for White Night Melbourne, Dark Mofo, and Melbourne Music Week, and in 2017 worked for the Australia Pavilion at the Venice Biennale. In 2018-19, Brendan was the Program Director for the Monash MPavilion, commissioning artists and events on the Monash University Clayton campus. As an independent curator, Brendan has worked with a number of Australian and international artists including Zanele Muholi (South Africa), Allora & Calzadilla (USA/Cuba), and Carolee Schneemann (USA).