Secret Sarayaku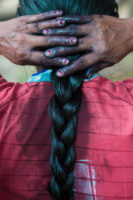 When
29 April 2022 - 22 May 2022
Venue
163 Commercial Road, South Yarra
Tue – Sat, 7am – 5pm
Sun, 10am – 3pm
Theme
Accessibility
Wheelchair access
Price
Free
Secret Sarayaku is the story of an Indigenous people becoming cyber-activists in the fight to protect their home in the jungle.
The Kichwa people, of Sarayaku in the Ecuadorian Amazon Rainforest, believe in the spiritual interconnectedness of the ecosystem—and that protecting their home is fundamental not only to their own survival, but to that of humanity.
Responding to the threats of climate change, the Sarayaku use social media to communicate with the world about the threat to their way of life. By sharing their life in the jungle, they hope to inspire people around the globe to implement different strategies in the fight against climate change—but this method also invites an ever-greater Western presence in their everyday lives.
Misha Vallejo Prut spent six years documenting the people and communities of the Sarayaku for this project, inviting you to experience the merging of Western contemporary thought with the ancestral knowledge of this Indigenous community.
Curated by Photo Australia
Supported by the City of Stonnington
Hear the artist talk about this exhibition