Yarema & Himey (UA)
Selected Works
12 February 2024 - 26 May 2024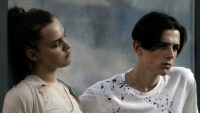 Image: Yarema & Himey (Yarema Malashchuk and Roman Khimei), Dedicated to the Youth of the World II (still), 2019. Courtesy the artists.
Exploring Ukraine, before and after invasion, through the lens of an image-making duo.
When
12 February 2024 - 26 May 2024
Venue
138 Commercial Rd, Morwell
Daily, 10am – 4pm
Accessibility
Wheelchair access
Price
Free
Kyiv-based artists and filmmakers Roman Khimei and Yarema Malashchuk have been collaborating at the boundaries of visual art and cinema since 2013. Their work engages with imperialist mythologies, youth, nostalgia and Soviet legacies. This exhibition is a brief survey of the duo's work to date.
Selected Works features the film Dedicated to the Youth of the World II (2019) documenting Cxema, the biggest techno-rave in Ukraine. This acclaimed work is made even more poignant today when faced with the uncertain fate of the youth in this video, produced prior to the full-scale Russian invasion of Ukraine in 2022. The exhibition also features the new work Explosions Near the Museum (2023), produced from the war zone in the liberated city of Kherson, in a museum looted by Russian occupational forces less than two kilometres from Russian-occupied territory.
Curated by David Ashley Kerr
Curators
David Ashley Kerr

David Ashley Kerr is an Australian curator and writer-researcher living and working on Gunai-Kurnai land in Eastern Victoria. David has played an active role in arts and cultural development in Melbourne (Naarm), as well as in Northern and Eastern Europe. Often writing on the role of the image and the post-digital turn, David is passionate about community-engaged art and ecological art practices. David is the custodian of LOW Gallery + Projects, an established independent art space in Rīga, Latvia, and is currently Senior Curator at Latrobe Regional Gallery on Braiakaulung country in the Latrobe Valley area of Gippsland.