Madeline Bishop (AU)
So I sew stitches
29 April 2022 - 22 May 2022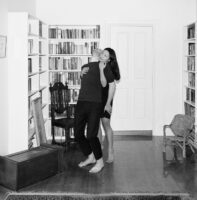 Image: Madeline Bishop, Bi and Stu via Marissa, 2022, from the series So I sew stitches. Commissioned by Photo Australia for PHOTO 2022 International Festival of Photography. Courtesy the artist.
When
29 April 2022 - 22 May 2022
Venue
20 Spring St, East Melbourne
24 hrs
Accessibility
Wheelchair access
Price
Free
In this series Madeline Bishop asked friends and family members to refer her to somebody that she had never met. Bishop photographed these people in their own homes upon first meeting them.
The project sought to explore the various dimensions of the relationship between herself and a subject introduced in this way. To what extent does our mutual connection translate to a shared history? And does this amount to a meaningful intimacy between us?
This floating potential connection crystalised into something solid through the process of photographing them. When you take a portrait of somebody, all of your attention is on them in an unnaturally intimate way. The act of making a portrait is an exercise of focus, recognition and care that can shape and accelerate a connection.
The subjects let Bishop enter their homes to photograph them, rendering the setting of the images – a space of unfamiliarity but also trust. The entire project balances on the assumption of trust, between Bishop and the referrer, between the referrer and the subject, and crucially between Bishop and the subject.
The coexisting intimacy and distance between Bishop and the subjects is mirrored in the structure of the images; the pore revealing closeups paired with the wider shots with context, space and distance. Their bodies make sometimes awkward, sometimes tender gestures, similar to how our encounters with new people can play out.
Commissioned by Photo Australia
Supported by the Victorian Government