Grace Wood (AU)
Soft Bodies
28 February 2024 - 23 March 2024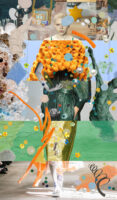 Image: Grace Wood, Years lie in wait for you, 2023.
The fashion runway becomes a game of exquisite corpse.
When
28 February 2024 - 23 March 2024
Venue
136a Bridge Rd, Richmond
Wed – Sat, 12pm – 5pm
Price
Free
The surrealist game 'exquisite corpse' is a collaborative one in which a number of participants draw a segment of a whole without seeing anyone else's contribution. This large-scale photographic installation reimagines the game through the lens of fashion photography, weaving together found photographs, internet images, painting, and drawing to create new mythologies—from fashion photography to twentieth century surrealist illustration.
Soft Bodies challenges historical notions, unveils hidden narratives, and offers a fresh perspective on the beauty and diversity of the human form.