Spirit is a bone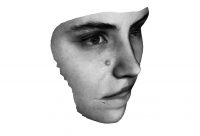 When
19 February 2021 - 7 March 2021
Venue
Argyle Square/Lygon St, Carlton
Outdoor work – accessible all hours
Accessibility
Wheelchair access
Due to lockdown restrictions delaying installation of this work, Spirit is a bone will now be installed on 19 February.
Captured by a facial recognition system developed in Moscow for 'public security and border control surveillance', the faces of Pussy Riot member Yekaterina Samutsevich and a number of other Russian citizens are depicted in Broomberg & Chanarin's Spirit is a bone.
Examining the proposed purposes and actual effects of facial recognition systems in public spaces, South African artist Adam Broomberg and British artist Oliver Chanarin have co-opted this particular surveillance device to construct their own taxonomy of portraits of civilians—categorised by their profession in an homage to August Sander—in a time of unprecedented intrusions on personal privacy.
These images provide an unsettling insight into the dehumanising quality of machines that can capture 'non-collaborative portraits' of unconsenting people with great precision, and the untrammelled power of a state that holds such a tool.