27 January 2024 - 24 March 2024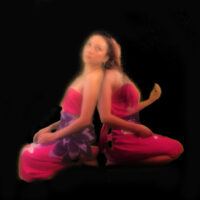 Image: Luce Nguyễn-Hunt, Aue My Endless Love (film still), 2022. Courtesy the artist.
Four emerging artists challenge the photographic medium from queer and diasporic viewpoints.
When
27 January 2024 - 24 March 2024
Venue
Level 1/40 Leeds St, Footscray
Wed – Sat, 12pm – 5pm
Accessibility
Wheelchair access
Price
Free
Trocadero Projects presents an exhibition of new and experimental photographic work and related writing from emerging artists Luce Nguyễn-Hunt, Rômy Pacquing McCoy, Dorcas Tang 邓佳颖 and Estelle Yoon. In SURFACING, these four artists challenge the traditions of the photographic medium as they explore and extend personal and community archives through a queer and diasporic lens.
Korean-Australian artist Estelle Yoon pursues the philosophy of wabi-sabi, searching for and expressing simplicity and transience, through analogue photography and filmmaking. Vietnamese, Samoan and Rarotongan artist Luce Nguyễn-Hunt uses digitally manipulated moving image, photography, poetics and sound to examine their place at the intersection of cultural history, queerness and observed intergenerational ties. Ilocano-Visayan and Austrian artist Rômy Pacquing McCoy draws on ancestral practices of art making through their encounters with found and inherited materials, and Chinese-Malaysian artist Dorcas Tang 邓佳颖 creates critical dialogue through socially engaged visual narratives that explore the transnational Chinese diaspora.
A Queer PHOTO exhibition presented by Trocadero Projects Supported by Creative Victoria through the Victorian Government's Go West Fund