Talk: Collaboration and Authenticity
5 March 2021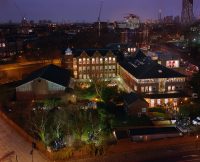 Simon Terrill, 'South of the River', Crowd Theory, type C print, 2016
When
5 March 2021
Friday, 10-11:30am
(AEST)
Venue
37-47 Thistlethwaite St, South Melbourne
Accessibility
Wheelchair access
Key to discussions of truth in photography is how we as image makers form working relationships and collaborate with our subjects. This panel brings together established and emerging artists to discuss their practices and their approach to community, collaboration and authenticity.
Speakers: Eliza Gregory, Rachel Main, Brie Trenerry, David Rostetzky, Simon Terrrill, Emmaline Zanelli.
Free – bookings required.
Speakers
Eliza Gregory

Eliza Gregory is a social practice artist, a photographer, an educator and a writer. She holds a BA from Princeton University and an MFA from Portland State University's Art & Social Practice program. Her three-year project with the Asian Art Museum of San Francisco was a solo exhibition there from April-July 2018, and from 2016-2018 she directed the Backroom Gallery at Adobe Books, a long-time grassroots art space in a used bookstore on 24th Street in San Francisco. Her photographs are in the collections of the Melbourne Museum, the Princeton University Art Museum, and the Arizona State University Art Museum. She has collaborated on her projects with Wavepool & Cincinnati FotoFocus, the Portland Art Museum, SFMOMA, the Arizona State University Museum of Anthropology, Southern Exposure, the HeadOn Photo Festival in Sydney, and the Storefront Lab, among other institutions. Eliza's work focuses on identity, relationships, and connections between people and places. She builds complex project structures that unfold over time to reveal compassion, insight and new social forms. She currently teaches in the photo program at Sacramento State University.

Rachel Main (AU)

Rachel Main's practice is rooted in storytelling and connection and at its core are the relationships and the communities of people she is engaged with. She is interested in process, participation and collaboration, with her work spanning across photography and video. She has been embedded in the Australian Krump scene for over 13 years, initially joining to learn the foundations of the dance and later becoming the community 'documenter'. This ongoing body of work has been exhibited across Melbourne and Sydney, winning the Judges Award at the Gertrude Street Projection Festival, named as a semi-finalist in the Moran Prize, shortlisted in the Australian Photography Awards, published in Blow Up magazine and collected by the State Library of Victoria and private collectors. Alongside her practice, Rachel is also a secondary Photography and Art teacher and facilitates photography and filmmaking workshops.

David Rosetzky (AU)

David Rosetzky is a Melbourne based artist and educator with an interdisciplinary and collaborative approach to art making. Often working with practitioners from the fields of theatre, dance, and film – he creates videos, installations and photographic works in which identity is intimately observed. David has presented his work in over 30 solo exhibitions and 60 group exhibitions. His Portrait of Cate Blanchett, 2008, was exhibited in The Third ICP Triennial of Photography and Video at the International Centre for Photography in New York. In 2005 he was awarded the Anne Landa Award for the Moving Image. Rosetzky's works are held in numerous collections including the National Gallery of Victoria, National Gallery of Australia, Art Gallery of New South Wales, Art Gallery of South Australia, Art Gallery of Western Australia, and the Museum of Contemporary Art, Sydney

Simon Terrill (AU)

Simon Terrill is an Australian artist based in London. Working with photography, sculpture, installation and video, his work investigates relations between architectural spaces and their received narratives and the idea of the crowd as a tool to examine architecture, identity, community and a performance of self. His work has been shown in museums and public galleries including Centre for Contemporary Photography Melbourne, National Portrait Gallery London, Samstag Museum Adelaide, QUT Art Museum Brisbane and Royal Academy London. The Brutalist Playground, a collaboration with Assemble toured internationally 2015 -2019. Awards include The Samstag International Visual Arts Scholarship, Acme Studios Residency and grants from Arts Council England and Australia Council for the Arts. M.33 published a monograph on his work titled Proscenium in 2011. He is an associate researcher with The Centre for the Study of the Networked Image (LSBU), artist in residence at Somerset House Studios and represented by Sutton Gallery Melbourne.

Brie Trenerry (AU)

Brie Trenerry is a local interdisciplinary artist who has exhibited extensively both in Australia and internationally. Brie is currently completing her PhD which explores altered states of consciousness and collaboration as generative strategies for an expanded cinema. Recent exhibitions include, You Say Phonetic I say Fanaticat KdMoFa (Kuandu Museum of Fine Art) a collaboration with Kieran Boland undertaken during a residency at KdMoFa in Taiwan, also exhibited at MARS Gallery in Melbourne 2020; Moving Pictures at LaTrobe regional gallery curated by David O'Halloran 2020; Art + Film: Beautiful and Deathly Nature New World Gothic MCA Sydney, curated by Erin Coates 2017; Sublime, Internal, Subliminal: emerging and established Australian video art, Ne Me Arts Centre Limassol Cyprus curated by Shaun Wilson 2017; Very Unco Torrance Museum Torrance Los Angeles curated by Ian Haig 2017. Brie has been the recipient of residencies at the Australian Experimental Art Foundation in Adelaide 2015, the Australian Archaeological Institute at Athens (AAIA) Contemporary Creative Residency via the University of Sydney 2018 and KdMoFA (Kuandu Museum of Fine Art), TNUA (Taiwan National University of the Arts, RMIT:ART:INTERSECT 2019. She is also the video curator at MARS gallery in Windsor.

Emmaline Zanelli (AU)

Emmaline Zanelli's work is focused on creating constructions and performances specifically for the camera. She is interested in concepts of the photograph as object, and the photograph's potential for continued involvement in physical and bodily life after its initial creation. She also works with moving image, and explores ideas of performance, costume, construction and object through a photographic perspective. In doing this I find connections between memory and the strange ways we stage and capture it – from memories of past relationships to the way we remember prehistoric creatures. Emmaline's photographic work has been exhibited around Australia in galleries including the Perth Institute of Contemporary Art (WA), Stills Gallery (NSW), Bus Projects (VIC), Hugo Michel Gallery (SA), and GAGProjects/Greenaway Gallery (SA). A selection of her work has been acquired by Artbank Australia and she has been featured in the British Journal of Photography.