Talk: Kristian Häggblom in conversation with Matteo Dal Vera and Michael Weatherill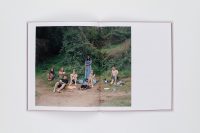 When
28 February 2021
Sunday, 2-2:45pm
(AEST)
Venue
404 George St, Fitzroy
Wed – Sun, 11am – 5pm
Accessibility
Auslan interpretor, Accessible Toilets
If you require an Auslan interpreter please make your booking 3 business days in advance.
Join Kristian Häggblom in conversation with Matteo Dal Vera and Michael Weatherill, makers of 'The Bridge' a collaborative Photobook. 'The Bridge' was awarded the student prize in the 2019 Australia & New Zealand Photobook award.
Free, bookings required.
Part of PHOTO 2021's Photobook Weekend
Speakers
Kristian Häggblom

Dr Kristian Häggblom is an artist, curator and educator who works with cross-cultural engagement and expanded documentary. He first moved to Japan in 1999 where he co-founded/curated RoomSpace Gallery in Omoide Yokocho ('piss alley'), Shinjuku, and has an ongoing relationship with the country and its culture. He completed his PhD through Monash University in 2014, was the inaugural artist-in-residence at the Australia Council for Arts Finland studio and was the founder/curator of Wallflower Photomedia Gallery, Mildura, in regional Victoria. He has curated several exhibitions in experimental spaces, (a motel and jail), for large festivals including Mildura Palimpsest Biennale. Häggblom's most recent curated exhibition, Tsuka: An Exhibition of Contemporary Japanese Photography, was staged at the Centre for Contemporary Photography in Melbourne and included a public program and dedicated website.

Matteo Dal Vera (AU)

Matteo Dal Vera (b. 1998) is a photographer based in Sydney, Australia. He received a BA of Design in Photography from UTS (University of Technology Sydney) (2019) and recently completed honours research at UTS (2020).

His recent projects ponder themes of intimacy, presence and distance. The ethical implications of storytelling and working with documentary photographs are considerations, which are foregrounded in his approach to photography and are embraced as a site for introspection. Recent projects include: 'Il Maso Chiuso' (work in progress), 'Me & Adam' (2019) and 'The Bridge' in collaboration with Michael Weatherill (2018-2019).

Dal Vera and Weatherill were recently exhibited as finalists in the William and Winifred Bowness Photography Prize (MGA, 2020) and their collaborative photobook 'The Bridge' (2018-2019) was awarded student photobook winner at the Australia & New Zealand Photobook Awards (2019). Dal Vera and Weatherill were also previously selected as attendee's at the Chico Hot Springs Portfolio Review (2019) in Montana, USA.

Michael Weatherill (AU)

Currently based in Vancouver, Canada, photographer Michael Weatherill uses the documentary medium to explore his interest in photography's relationship with narrative.
His most recent body of work 'The Bridge' made in collaboration with fellow photographer Matteo Dal Vera, was awarded the student prize in the 2019 Australian and New Zealand Photobook award. This work was also a selected finalist in the 2020 Bowness Prize. In 2019 he completed his Bachelor of Design majoring in Photography at The University of Technology, Sydney.